Constant Filter | Discography | John Metcalfe
Artist: John Metcalfe with Matthew Barley
Title: Constant Filter
Label:
Release date:
Constant Filter with cellist Matthew Barley
An exciting collaboration between the rising British composer John Metcalfe and the internationally renowned cellist Matthew Barley. The project is summed up well by Barley's description of the music:
"Metcalfe's music fascinates me: it intelligently fuses acoustic and electronic soundworlds; it develops its themes with economic clarity; and - the main attraction - it speaks to the heart without ignoring the head. It can make me cry, laugh or dance, and that is what new music should be doing. I can hear the traditions of classical music, as well as contemporary rhythms and haunting synthesisers from the world of electronica. This is art that can speak to everyone about love and freedom, fear and yearning, and the deep mysterious joy of music."
Tracklisting and running order
Tracing The Outline (6 movements)

Kite (with Ashely Wass, piano)
1 - Appear
2 - Land
3 - Centre
4 - Parsal
5 - Tree
Lonely Bay
As She Fell
The Appearance Of Colour
More information please go to matthewbarley.com.
Listen and Buy Now at iTunes UK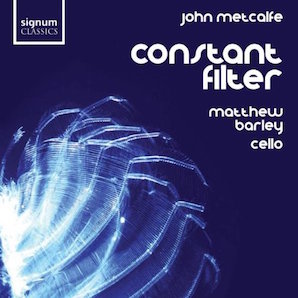 Reviews
'Most recently to be found helping Peter Gabriel transform the cover versions on Scratch My Back, John Metcalfe here furnishes cellist Matthew Barley with a series of pieces mostly composed for solo cello and electronics.
Using computerised octave-splitters and delay units, Barley achieves a surprising depth of sound and harmonic richness, particularly on the title-track, where echoing wisps of electronic sound flutter around the cello like butterflies; Lonely Bay, on which the concentration necessitated by using a 40-second loop imposes a deep meditative calm; and The Appearance of Colour, where the slow accretion, note by note, of a single 25-note chord produces an imposing serenity.'
The Independent (4 stars)
'Barley's booklet note explains how he decided it was time that he made a recording at home, and gives some idea of the steepness of the learning curve he faced. He seems to have made the ascent with ease: you'd never know it wasn't the product of some glitzy studio. His playing, of course, is just as accomplished.'
International Record Review
John Metcalfe on Soundcloud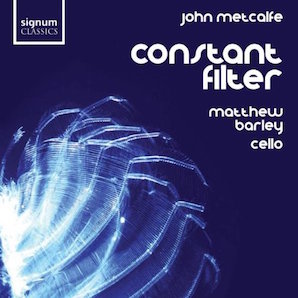 John Metcalfe Discography
Solo Albums
Arrangements and Compositions
Matthew Barley - cello
Matthew Barley is internationally known as cellist, improviser, arranger, music animateur, and Artistic Director of Between The Notes. His musical world is focused on projects that connect people in different ways, blurring the boundaries that never really existed between genres and people.
As a soloist and chamber musician he has performed in over 50 countries, including appearances with the BBC Scottish and Philharmonic (Hazlewood), the Melbourne Symphony (Tortelier), Hong Kong Sinfonietta, Czech Philharmonic and London Chamber Orchestra. He has performed at festivals in Lucerne, Hong Kong, Lanaudiere, Abu Dhabi, Krakow, City of London and in recent seasons has performed at some of the world's great concert halls: Londons Wigmore Hall, Royal Festival Hall, Royal Albert Hall, and the Pablo Casals Hall in Tokyo.
Collaboration - whether chamber music or with different styles of music - is an enduring passion, and Matthew has worked with Matthias Goerne, Martin Frost, Viviane Hagner, Thomas Larcher, Kit Armstrong, Amjad Ali Khan, Julian Joseph, Django Bates, Talvin Singh, Jon Lord, Sultan Khan, Kathryn Tickell and Nitin Sawhney. Another passion is improvisation: he recently appeared at the Wigmore's prestigious BBC Radio 3 lunchtime series in a programme of Bach preludes, interspersed with improvisations on his electric cello.
In 1997 Matthew Barley founded Between The Notes, a performance and education group that has appeared at the Sydney Opera House, the Royal Opera House (with the Royal Ballet) and the BBC Proms. More recently BTN took centre stage for the 20th anniversary celebrations of the Köln Philharmonie as soloists with the G?rzenich Orchestra under Markus Stenz.
Constant Filter is Matthew's second release for Signum Records, following The Dance of The Three Legged Elephants, which garnered a 5 Star review from BBC Music Magazine.
Future plans include orchestral projects with the Netherlands Radio Chamber Orchestra, The Metropole Jazz Orchestra and a return trip to the Hong Kong Sinfonietta, a residency at the prestigious new venue Kings Place in London, and a major new project with his wife, Russian violinist Viktoria Mullova. He will be artist in residence at the Spitalfields Festival in 2011.
Future collaborations include projects with Matthias Goerne, Martin Frost, Viviane Hagner, Thomas Larcher and Kit Armstrong, Iranian Sufi Davod Azad, and iconic Indian composer/performer Nitin Sawhney.
2007 saw Matthew's television debut as the Music Director of BBC 2's widely acclaimed 'Classical Star'.
More information at matthewbarley.com.
John Metcalfe on Soundcloud